12 Mar

A Peculiar Exhibit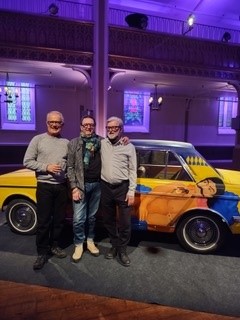 Between March 10 and 12, The Richmond salon in Montreal hosted the PaykanArtCar exhibit.
he Quebec Gay Archives were invited and our coordinator, Pierre Pilotte, represented our organization. This travelling exhibit, moving from city to city and country to country, seeks to raise awareness among the general public about the violence and abuses to which LGBTQ+ people in Iran are subjected.
The exhibit showcases a Paykan limousine, which Iran's Shah gifted to Nicolae Ceaușescu in 1974 when he became the president of Romania. It must be noted that the Paykan was Iran's national car brand until its manufacturing ceased in 2005. Alireza Shojaian, an Iranian activist and artist, used this car as a setting to depict the tragic story of two lovers. This is an original and spectacular way of denouncing human rights violation of LGBTQ+ people in Iran.
To learn more about this travelling exhibit, you can consult the following website : www.paykanartcar.com